The desktop/console/hi-fi in your pocket - starring the Nokia N93
The TV-out feature in the Nokia N93 has got quite a few people thinking. In case you haven't been keeping up to date, it's a special graphics chip and companion utility on the N93 that lets you connect the smartphone using the supplied 'composite' cable to any TV or audiovisual device. Its aim is to let you demo your photos and videos on a large screen, but it also has a few extra uses:
You're in a hotel room on business. Armed with a Bluetooth keyboard (come on, you know you've got one in your desk drawer), you connect the N93 to the room's TV using the composite cable or a SCART adapter. You can then word process, respond to emails and type in Notes, using its full size keys and the large TV screen as your monitor: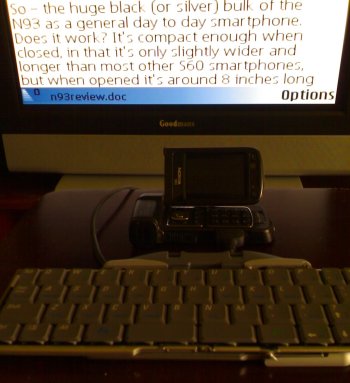 You're at your mate's house and the two of you are bored with his old PlayStation games. But hey, you've got Snakes and System Rush and half a dozen other titles loaded on your N93. Again, just

plug in via composite lead or SCART to his TV, switch the N93 to landscape mode and use the navigator key as your in-game d-pad, watching and playing the games together on his 24" wide-screen TV: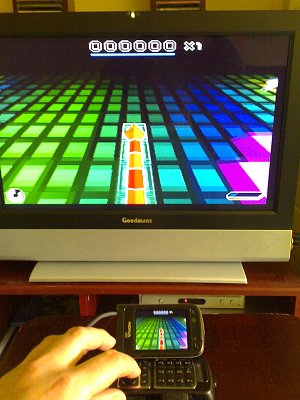 At your 21-year-old daughter's flat, you feel an overwhelming desire to demo to her what real music sounds like. Whipping out your N93, you plug it into the phono sockets on the back of her midi system and start Pink Floyd/Chopin/Sinatra (delete where applicable, depending on age) playing in Music player. Decent music fills the room, driven from your N93: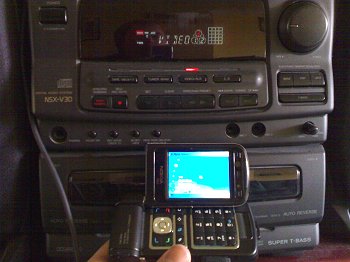 At home in your living room, your partner wants you to look something up on the web but your PC's upstaairs in the office and it's turned off. Rather than wait for it to spin up, you plug the N93 into your TV and you're off, instantly, surfing on the largest web browser screen you've ever seen: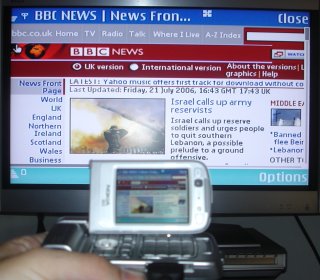 At work, your team are trying to liase with another team on the other side of the country. Progress over a landline speakerphone is proving slow, so you set up your N93, plugged into the meeting room's TV, and establish a 3G video call to your opposite number with a 3G phone at the other end. The TV image fills with the scene at the other site and you can all see and talk to each other - the meeting ends far more successfully.
I'm sure other uses for TV-out will occur to you. Ideas on a postcard... What is clear is that having TV-out graphics capability is a major step sideways, if not forwards, opening up all sorts of possibilities for those that like to keep a powerhouse in their pocket.



Source: http://www.allaboutsymbian.com